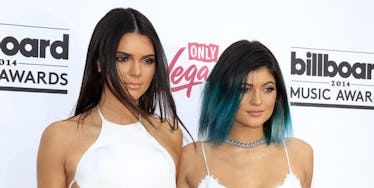 Kylie Jenner Claims She 'Started Wigs' And People Are Not Having It
REUTERS/L.E. Baskow
Kylie Jenner is no doubt an influential fashion icon. Between her constant hair changes and lip kits that sell out faster than you can say "I need that," fans trying to emulate her can barely keep up. Needless to say, she is on fire when it comes to shaping current trends.
In a recent issue of Marie Claire, however, Kylie caused many to pause with her comment about wigs. Apparently, she told the mag,
I started wigs, and now everyone is wearing wigs.
Sorry to break it to you, Kylie, but people have been wearing wigs for a long-ass time.
Just ask good old Georgie.
Or Cleopatra.
Wig-wearing historical figures are likely rolling over in their graves right now, and Twitter fans are not happy, either, that Kylie is taking credit for making hairpieces a thing.
It is true, though, that Kylie knows how to rock a wig. She sported at least 52 different hairstyles in the past year alone, and it doesn't look like she'll be slowing down any time soon. As she told Marie Claire,
Kim [Kardashian] just used my wig guy last night. I just do whatever I want to do, and people will follow.
Damn, Kylie. At just 18 years old, it sounds like you are vying to become the ultimate wig queen.
Citations: Kylie Jenner: "I Started Wigs" (Cosmopolitan)