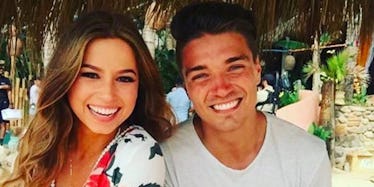 4 Tweets From Kristina About Dean That Will Make 'Bachelor In Paradise' Fans Swoon
Instagram
If you've been watching Bachelor in Paradise this season, it's no surprise that Dean and Kristina have become the fan-favorite couple straight out of the gate. They're both gorgeous and seem to get along so well, and they obviously bonded while the show's filming was suspended. According to these tweets from Kristina about Dean, their relationship is one to envy.
While many of these tweets are super adorable and everyone seems to think the two are still together, we can't be so sure. During the Bachelor in Paradise episode that aired on Tuesday, Aug. 15, Kristina tweeted about something Dean said during the episode. Her tweet read,
Dean I wasn't angry then.... I am now. Shade man #BachelorInParadise
The tweet seems to reference the moment in which we saw Dean talking and joking around with some of the other guys on the show. He said something like: "I told [Kristina] she can go on dates with other guys, because I'm free to do that too. But she gets angry every time I say that." According to Dean's Twitter, he has yet to comment on the tweet Kristina directed at him.
BUT, lets go back to happier times, people. We first see Kristina tweeting about Dean during his stint as one of Rachel's men on The Bachelorette. (Fun fact: Kristina and Rachel are actually friendly, having both been contestants on Nick Viall's season of The Bachelor. Is that awkward? I NEED TO KNOW.) OK, back to the cute tweets.
1. The time she watched Dean's hometown date on The Bachelorette.
Fans think Dean and Kristina were already dating by the time this Bachelorette episode aired, since Bachelor in Paradise finished filming back in June. So, regardless of whatever happens on the rest of the show, we know Dean and Kristina must have left on good terms.
2. The time she poked fun at him during his date with Rachel.
OK, this one "tweet" is actually a bunch, but I couldn't NOT include them all. She even tweeted back at a fan who asked her what her favorite dinosaur was.
3. Of course, I just can't get over this retweet she posted to her page.
Do I smell wedding bells? What... too early?
4. The most epic selfie with Jorge.
"The bigger the smile, the happier the person." HMMM, Dean and Kristina both have pretty big smiles here!
Catch up with the couple and the rest of the Bachelor in Paradise cast on Mondays and Tuesdays at 8 p.m. on ABC.