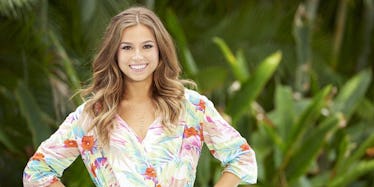 Kristina Threw Some Intense Shade At Dean On Twitter During 'Bachelor In Paradise'
ABC/Bob D'Amico
Welp, there go my dreams of Kristina Schulman and Dean Unglert living happily ever after post-Bachelor in Paradise. After the two contestants had a seeming perfect date in the Season 4 premiere, there was (as there always is) trouble in paradise in the second episode on Tuesday night. What happened, you guys?! What happened between Kristina and Dean?
Well basically, Kristina sent Dean some mega amounts of shade on Twitter on Tuesday, while she was live-tweeting the second Bachelor in Paradise episode. On the show, Dean was joking around with the other guys, giving them the deets on his relationship with Kristina after their one-on-one date. He said something along the lines of: "I tell [Kristina] she can go on dates with other guys, because I'm free to do that too. But she gets angry every time I say that."
Kristina fired back with a Twitter response: "Dean I wasn't angry then.... I am now. Shade man #BachelorInParadise."
Oof. Dean just got exposed. Doesn't he know better than to anger a smart, beautiful, Russian woman? There was drama on screen in addition to this Twitter drama, with Kristina not knowing what to do with all these mixed signals from Dean so early on in the show. She turned to some comfort from Wells, the new bartender, at the end of the night, and honestly, now I'm team Kristina and Wells. She took to Twitter to express her gratitude to Wells for his words of wisdom.
"If you haven't been comforted by a bartender you haven't hit a low point. @WellsAdams you're the best," wrote the former Bachelor contestant.
And it doesn't look good for Dean and Kristina next week either — the trailer showed Dean crying, lamenting what a terrible person he is. Oh no, Dean, what did you do? Please don't hurt Kristina — after everything Nick Viall put her through, this is the last thing she deserves.