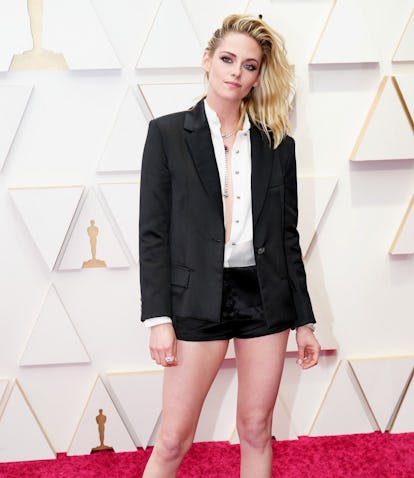 Kristen Stewart Immediately Took Off Her Heels On The Oscars Red Carpet
Jeff Kravitz/FilmMagic, Inc/Getty Images
Kristen Stewart knows how to walk a red carpet: by doing so comfortably. The Best Actress nominee started out on the 2022 Oscars red carpet in a pair of mile-high stilettos. But, after all the big photos were taken, the star switched into a pair of flats, creating yet another iconic fashion moment.
Stewart showed up to Hollywood's biggest night decked out in a custom Chanel black satin jacket and matching shorts, along with Chanel heels. On a night when most women show up in floor-length gowns, Stewart broke the mold with her formal-wear shorts. But that wasn't her last groundbreaking fashion moment of the night.
After Stewart walked the carpet and posed for a bunch of pics in her high-heels, she made a quick swap into some slightly comfier footwear. Some eagle-eyed viewers noted that as soon as she got the chance, Stewart snuck around a corner of the red carpet to switch into flats. For anyone who's ever brought a change of shoes to a big event or swapped into sneakers for their commute home from work, it was a hugely relatable moment from the star. After all, it's unrealistic to expect someone to stick it out in heels all night long, right?
Stewart has actually ditched her footwear on a red carpet before. In 2018, Stewart walked the red carpet at the Cannes Film Festival barefoot as a form of protest against the festival allegedly imposing a heels-only dress code for women attending. This time around at the 2022 Oscars, it doesn't seem like Stewart was protesting anything in particular — other than having uncomfortable feet.
In 2017, Stewart spoke about the Cannes dress code with The Hollywood Reporter, saying, "There's definitely, like, a distinct dress code, right? People get very upset at you if you, like, don't wear heels or something—whatever. But I feel like you can't ask people that anymore. It's just kind of a given. Like, if you're not asking guys to wear heels and a dress, you cannot ask me either."
This year's Oscars ceremony marks Stewart's first Academy Award nomination. She was nominated for her performance as Princess Diana in Spencer, a movie where she notably wore many pairs of high heels. It makes sense that the actress wanted to give her feet a bit of a break during her big Oscars night.