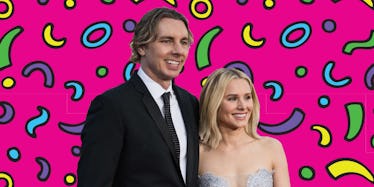 Kristen Bell And Dax Shepard Celebrate Their Birthdays In The Best Way Ever
REX/Shutterstock
Kristen Bell and Dax Shepard refuse to be bound by society's restrictive idea of birthdays.
On Tuesday, Kristen stopped by "Jimmy Kimmel Live" to promote her upcoming film, "Bad Moms."
Jimmy tried to wish her a belated happy birthday — she turned 36 on Monday — but Kristen corrected him and said it was actually still her birthday.
Kristen explained to Jimmy,
In our household, we have a rule that Dax made up where it's your birthday until you decide it's not your birthday anymore.
Kristen said while Dax usually keeps his birthday just going a couple of weeks, last year her's went on "well into September."
But what does it mean exactly for it to "be your birthday"?
It's not presents and cake every day for a month like the birthday version of "Groundhog's Day."
Kristen said,
You just get to make all the decisions. So you get to choose what we watch on TV, you got to choose if we go to the park or not, you get to choose what we eat for dinner, if we stay in, if we go out... You get to make all of the decisions that basically affect everybody.
She went on to clarify her two daughters do not get to partake in this generous birthday rule. That's probably for the best, considering they are 2 and 3 years old, and should not be making decisions for the whole family.
Overall, this rule is a pretty nice birthday present for Dax to give his wife. But nothing will ever beat that sloth.