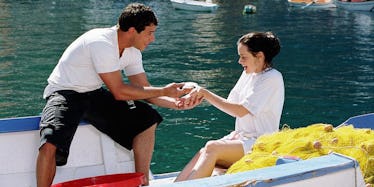 Kostas From 'The Sisterhood Of The Traveling Pants' Is Grown Up And Hot AF
Alcon Entertainment
It's a million degrees outside and, for those of you who failed to line up a summer hookup, sitting in the AC and streaming scripted flings online is the all the romance you'll get until cuffing season rolls around in a few months.
One favorite such scripted romance is that of Lena and Kostas in 2005's "The Sisterhood of the Traveling Pants."
Watching Alexis Bledel suck face with someone other than her "Gilmore Girls" love interests was exciting to begin with, and actor Michael Rady was the hottest forbidden Greek lover any of us had ever seen.
LIKE, BYE.
Rady went on to play NASA super-genius and Casey Cartwright's short-lived love interest Max on "Greek."
Everyone obviously preferred shirtless, summer Greek god Rady to buttoned-up, bookish "Greek" Rady, but we shut our dumb mouths and took what he was willing to give us.
He appeared on the "Melrose Place" reboot, "House of Lies," "The Mentalist," "Emily Owens M.D.," "Jane the Virgin" and, most recently, Lifetime's "UnREAL."
If you're not watching "UnREAL," you should, regardless of Rady's involvement. It's captivating as holy eff.
On it, the 34-year-old plays a network executive who makes woo-woo eyes at Shiri Appleby, a career high most of us will fail to ever achieve.
The truth is, he never actually left us. We just weren't looking hard enough.
Citations: Kostas From 'The Sisterhood Of The Traveling Pants' Is Currently On Your TV, FYI (Huffington Post)