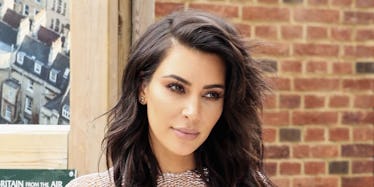 Try Not To Drool Over Kim Kardashian's Go-To Fast Food Meals
REX/Shutterstock
Kim Kardashian has been known to splurge every now and then on fast food delicacies. And even though she's currently following a strict Atkins diet, Kardashian admitted in a recent blog post, "of course I still have cravings!" Don't we all, Kim. Don't we all.
But what are her five favorite go-to drive-thru meals? Lucky for us, now we know! According to People, Kim Kardashian wrote a fast food tell-all on her app, saying,
Fast food is def one of my guilty pleasures. I go very rarely, but OMG I love it so much when I decide to indulge.
Among her favorite guilty pleasures is an In-N-Out plain cheeseburger, "cheese fries" (could she mean animal fries??) and a vanilla shake. Yum! Kim K seems very particular about her Chipotle order, however, as she explained,
I love to order the Chipotle bowl, but I get it with just rice, chicken, guacamole and cheese. I have to have chips on the side, of course. Then I always get a Diet Coke from the fountain with LOTS of ice. If they don't put enough ice in it, I die.
Kim revealed she also goes for the OG Mexican food chain -- aka Taco Bell. She said of her favorite TB order,
I always get one soft taco and one hard taco, both with beef. Then cinnamon twists for dessert!
Drooling yet? Kardashian can't complete any fast food favorites list without giving a shoutout to KFC. From the fried chicken joint, she said she loves to get "extra-crispy chicken wings and a biscuit with honey." If that doesn't sound like a perfect meal, then I officially know nothing.
Last but not least, Kim revealed her must-haves from fast food joint number one: McDonald's. When at the Golden Arches, Kim K said she "ALWAYS" has to get a small order of fries, though she'll also often get "chicken nuggets and dip them in honey."
I know we're still recovering from the long weekend, but are you thinking what I'm thinking? Yep, buckle your seatbelt because we're going to the nearest drive-thru ASAP. Thanks a lot, Kim.
Citations: Kim Kardashian Reveals Her Top 5 Fast Food Meals—See What Made the List (People)