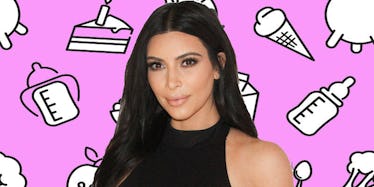 Kim Kardashian Opens Up About Having A Third Child With Kanye West
REX Shutterstock
Sorry, everybody. Looks like we aren't getting anymore lil' Yeezys.
If you were ever wondering about the current state of Kim Kardashian's vageener, you should probably watch last night's episode of "Keeping Up with the Kardashians."
During a TMI-centric car ride with Scott Disick we learned two things about Mrs. Kardashian West's downstairs Pablo:
1) Two babies later and it can be described as "hallwayish." 2) There will be no third human being making its way out of Kim any time soon.
Not that Kanye doesn't want kids. Kim told Scott,
Kanye has said it every single day for the last week... I don't think I can carry another one. I just feel like, 'Ugh, I'll never be the same down there.' Kanye says it like feels the same.
Despite Kanye's beliefs about vagina elasticity, Scott tends to agree with Kim, replying,
One hundred percent things change.
Kim then asks,
It's like throwing a hot dog down a hallway?
So no more new versions of this.
Kanye, Kim and North at Khloe's birthday party. https://t.co/6Km4x0PhZl pic.twitter.com/ijmL8CEYJ6 — TeamKanyeDaily (@TeamKanyeDaily) July 7, 2016
No more new versions of this.
Kim & North are so cute pic.twitter.com/lYwIj5bwtt — Because I'm a Girl (@TheBossGirls) July 8, 2016
And ESPECIALLY no more new versions of this.
Kim and Saint West pic.twitter.com/OXlrz5FYKw — Kardashian Search (@KardashSearch) July 11, 2016
SO GET USED TO THIS SAD, DARK, NEW KARDASHIAN-LESS WORLD WE LIVE IN.
Citations: Kim Kardashian Worries Ill Never Be the Same Down There After a Third Kid its Like Throwing a Hot Dog Down a Hallway? (E! News)