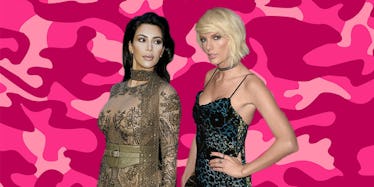 Kim Kardashian May Have Sent Taylor Swift A Warning Using This Emoji
REX/Shutterstock
By now, you've heard about Kim Kardashian "exposing" Taylor Swift regarding Kanye West's colorful "Famous" lyrics. Well, it seems like Kim Kardashian might have been sending Taylor Swift warning shots prior to exposing her... using this one particular emoji.
The 35-year-old star took to Twitter on July 17 to post in honor of "National Snake Day."
Here's the tweet.
Only, this tweet wasn't just about "National Snake Day." Carefully read into it and you'll notice Kim is actually getting pretty damn shady and is DEFINITELY referring to Taylor Swift being a snake.
They have holidays for everybody, I mean everything these days.
Yup, sounds like a diss with a side of extra shade to me.
Kim, who clearly knew Sunday's exposing of Taylor Swift was going to air on "Keeping Up With The Kardashians," took a swing below the belt just hours before the episode aired.
During the episode, Kim tweeted,
So dope. So dope, indeed.
Kim Kardashian then left off with this tweet.
This tweet, however, didn't feature ANY snake emojis -- just a sarcastic winky face. We get it, Kim. Taylor "The Snake" Swift is no match for the new queen of #exposing.
Citations: Kim Kardashian Warned Taylor Swift Of Bombshell Video Drop With Snake Emojis (HollywoodLife)