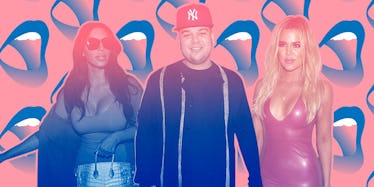 Kim Kardashian Posted The Sweetest Snapchat Of Rob And Khloé
Elite Daily
The world needs more hugs. You know it. I know it. Rob and Khloé Kardashian know it.
The power siblings were caught by Kim Kardashian in a sweet embrace, and Kim posted the adorable moment on Snapchat.
She didn't caption the image, just put an emoji of two bears hugging in the corner.
Take it in, friends. Moments like these are what being brother and sister is all about.
ALL YOU NEED IS LOVE.
The clan has been surprisingly quiet over the past few days. But that's all about to change.
Blac Chyna and Rob are taking their relationship to the next level by filming a reality show together. It's basically a cheap knockoff of "Keeping Up with the Kardashians." And you'll never guess what it's called.
"Rob & Chyna." Yeah.
Meanwhile, it looks like Khloé could be officially off the market.
She was spotted locking lips with Trey Songz over the weekend. The lovebirds were seen together at Drai's Nightclub inside The Cromwell Hotel in Vegas on Saturday night. They were even photographed leaving together.
YAY ROMANCE.
Citations: Khloe Kardashian Cuddles With Brother Rob Kardashian on Kim's Snapchat (Entertainment Tonight)