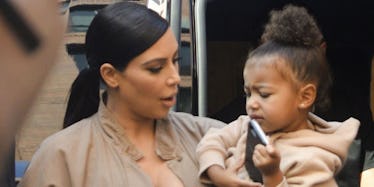 Kim Kardashian Posted The Cutest Video Of North West And Penelope Disick
REX/Shutterstock
Awwwwwwwww, children!
Apparently, Kim Kardashian West brought North West to see her cousin, Penelope Disick, for Penelope's fourth birthday. I know she did because she posted the cutest video of North and Penelope singing -- or just screaming nonsense, I'm not really sure, but it's still adorable.
Kim wrote in the caption,
Whatever secret language u girls speak, the way you girls protect each other & love each other is so special. Penelope, North is so lucky to have a best friend like you! Happy Birthday my sweet P. I love you to the moon and back!
OK, so at least Kim Kardashian also thinks North and Penelope are speaking some kind of gibberish or secret language.
A secret language between the Penelope and North would actually make sense seeing as the two cousins have basically been best friends since they were born and practically go everywhere together.
They're the only daughters of the Kardashian sisters, and the girls are pretty close in age -- North is 3 years old and Penelope just turned 4 -- so it makes sense they're such good friends.
But, hanging with North wasn't the only thing in store for Penelope on her birthday. Kourtney Kardashian, Penelope's mom, did all kinds of amazing things for Penelope's birthday, including taking her to a wall of candy and taking her on a relaxing boat ride.
Well, with all the family and all the fun, it seems like Penelope had a wonderful and loving birthday celebration.