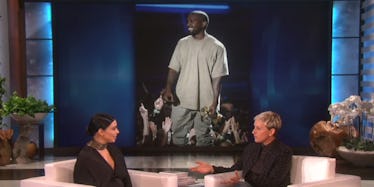 Kim Kardashian Says Kanye Isn't Joking About Running For President (Video)
Kim Kardashian West appeared on "The Ellen DeGeneres Show" this Wednesday and told Ellen Kanye West was actually not joking about running for president in 2020.
At the MTV Video Music Awards, Kanye West announced his candidacy at the end of his acceptance speech for the Video Vanguard Award. There has been a lot of discussion about if this was, in fact, a true statement, or if Kanye was just kidding around since he did admit to smoking something earlier that evening.
Kim told Ellen,
He's serious. I believe he is serious and I know that... if he puts his mind to something, he'll do his best.
She went on to discuss how exciting it would be for them to redecorate the White House.
You can check out the interview in the video above. We may just have to wait for 2020 to see if Kanye West will actually run for president and if the Kardashian-Wests' dreams of decorating the White House will come true.