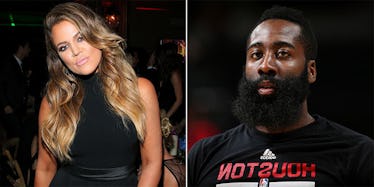 Khloé Kardashian Signed Up For OkCupid After Breaking Up With James Harden
Getty Images
Khloé Kardashian, forever the voice of the people, of reason, of humor and of reality in a world of televised butt laser treatments, topped her own everywoman status by filling out a profile on OkCupid.
The reality star and recent author is moving on the Millennial way after ending her relationship with Houston Rockets player James Harden, PEOPLE reports.
On her app yesterday, the 31-year-old reportedly wrote,
Real talk: I've never done online dating before, but just for sh*ts and giggles, Malika and I decided to fill one out. It was actually really fun to do, LOL! Get to swiping right, boo-boo!
Koko's last stab at online dating, during the second season of "Keeping Up with the Kardashians," was largely unsuccessful due to the fact her profile was created by her sisters, unbeknown to her.
Now, she's swiping for love on her own terms and opening up to online suitors in the hopes of finding the right man and, perhaps, learning a bit more about herself (this could REALLY work as a tagline for her future biopic about love, loss and finding her bliss, but I'll play it cool).
Khloé -- or as she's known on OkC, khloewithak -- shared a sampling of her profile on her app. When the dating site asked her to admit something private, she shared,
I always, always have Hot Tamales in my nightstand! I'm actually going to eat some right now.
Hear that, single dudes? Nightstand candy. Try finding another catch who also has nightstand candy. You won't.
BRB, making an OkCupid profile and crossing my fingers we match.
Citations: Khloé Kardashian and James Harden Break Up – As She Signs Up for Online Dating (PEOPLE), My OKCupid Profile (Khloe With A K)