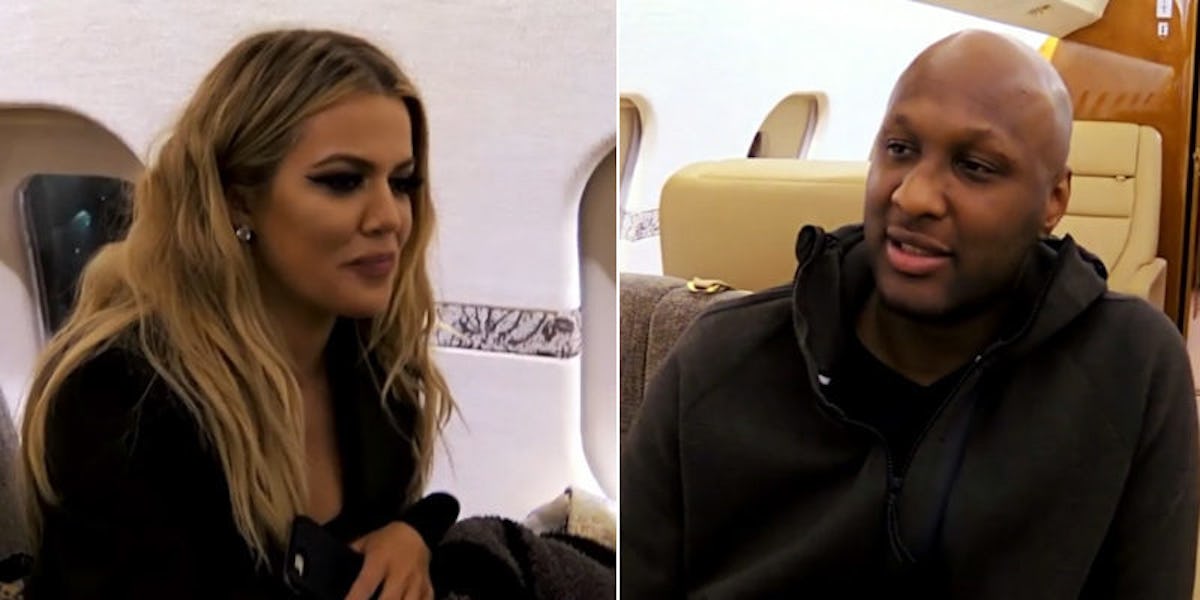 Khloé Kardashian Talks Having Anxiety About Lamar's First Public Appearance
E!
On this past Sunday's "Keeping Up with the Kardashians," Khloé Kardashian accompanied Lamar Odom on a trip to NYC.
It was a pretty big moment for the former couple because coming to New York was Lamar's first public appearance since his hospitalization.
In New York, Khloé and Lamar planned to attend Kanye West's Yeezy Spring 2016 Ready-to-Wear Fashion Show along with the rest of their family members.
From the clip, it's clear Khloé felt more nervous about the experience than Lamar. The two are taped on a private flight from Los Angeles to New York as they talk about the trip.
Their conversation started with Khloé asking Lamar how therapy is going, to which he replied, "good." She then told him,
I'm nervous, like this is nerve-wracking... You haven't been in public, ever. I have more anxiety than you do, I'm sure, but it's because I don't think you understand.
Khloé opened up about how she just wants Lamar to be happy and going to NY with him is her way to support that.
The two have been spotted together on several occasions since Lamar's recovery, and Khloé even admitted remarrying Lamar would be "the best dream." OHHHHHH, DAMN. THAT'S JUICY STUFF.
In the clip above, you can watch Khloé Kardashian and Lamar Odom talk about his first appearance on "Keeping Up with the Kardashians." Be sure to tune in next week to see what other hot gossip unfolds.
Citations: Khloé Kardashian And Lamar Odom First Appearance (E! News)