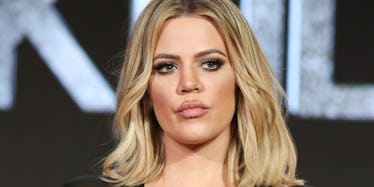 Khloé Kardashian Claps Back At People Saying She's Too Skinny Now
REX/Shutterstock
KHLOÉ KARDASHIAN IS A FLAWLESS GOLDEN RAVEN WHO DESERVES TO BE TREATED AS SUCH.
Headlines like "Khloé Kardashian Looks Scary Skinny After Extreme Weight Loss -- Is She Okay?" was apparently what led Khloé with a K to call out critics earlier today.
The 32-year-old Kardashian favorite had some choice words on Twitter for those who said she recently lost a dangerous amount of weight.
Honestly, if you're still critiquing Khloé's body in 2016, you should eat a giant turd.
AMEN, SISTAH!
YASSSSSSSSSSS!!!!
EAT *clap* A *clap* GIANT *clap* TURD *clap* YOU *clap* AWFUL *clap* WEIGHT *clap* POLICE *clap*.
The remarks about her weight loss were made after she was recently photographed at her grandmother's birthday party.
Her fans were obviously quick to take her side over these absurd accusations.
@khloekardashian you're just perfect and your body is amazing i'm so proud of you. You're pure motivation — Katie Ж (@_DreamHouse_) July 28, 2016
@khloekardashian @fguzman_04 that means you are living right! & have nothing for them to nit pick on,but your weight. #dirtylegs #fuckem — stephanie (@itGirlStephii) July 28, 2016
Khloé is doing FOYN, btw.
Soooooooo, she won this exchange, right? Yeah? Cool, thought so.
Citations: Khloe Kardashian Slams Critics for Claiming Shes Too Skinny (Entertainment Tonight)