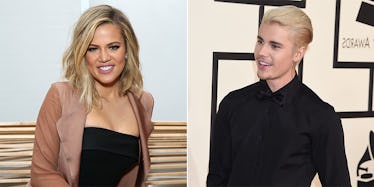 Khloé Kardashian Is Officially A Belieber, Just Like All Of Us
Getty Images
IT'S OFFICIAL. Khloé Kardashian just admitted she has Bieber fever, and the Internet is freaking out.
The "Keeping Up with the Kardashians" star made the confession by asking her Twitter followers a question this morning.
NO, KHLO. THERE IS NO AGE LIMIT. JOIN US!
Now, some Justin Bieber fans are welcoming her into the fandom.
They can take her to a concert and teach her everything they know. Don't worry, Khloé. Beliebers have your back.
@khloekardashian no there's not! we'd love to have you K — sarah-faith (@BALDWINRAUHLS) March 21, 2016
Some fans responded by telling Khloé to just ask her sister, Kourtney, who allegedly was hooking up with Bieber at one point.
It looks like Beiber fever runs in the fam. See you at the Purpose tour, Khlo!