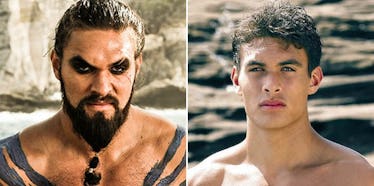 Khal Drogo From 'Game Of Thrones' Was A Total Babe In The Original 'Baywatch'
HBO/REX/Shutterstock
Hey, "Game of Thrones" fans! Here's a gift for you to start off the week right: Khal Drogo was in some early "Baywatch" episodes when he was younger — and he was super hot in them.
I know, I know. We're all excited about Zac Efron's tiny speedo in the new "Baywatch," film, and for good reason.
I mean have y'all seen how minuscule this speedo is? It's extremely little! The most small! Trés, trés petite!
But I see your microscopic bathing garment, Zac Efron, and raise this young, clean-cut Jason Momoa, aka Khal Drogo, from the late '90s on "Baywatch."
This fierce Dothraki warlord was once a hunky life guard on the Hawaiian beaches for three seasons of "Baywatch Hawaii," from 1999 to 2001.
Interestingly enough, his character's name was also Jason — Jason Ioane, a 19-year-old who moved to Hawaii to be a part of the Baywatch team.
In this clip, he uses his charming good looks to con his way into a free convertible.
Oh, right:"Baywatch" is a ridiculous show.
But listen, I'm not here for the plot. I'm here to stare at Jason Momoa's face and body.
Without a scar on his face he hardly even looks like the Jason Momoa we know and drool after today.
That scar came from a bar fight in Hollywood in 2009.
What I wouldn't give to be that creamsicle orange post.
Khaleesi, are you seeing this?
Eventually Jason did grow out his hair on the show, giving him some Khal Drogo vibes.
I just... the shoulders... the arms.
"Baywatch" was Jason Momoa's first acting gig when he was just 19 years old. Before that, he won Hawaii's Model of the Year 1999 — and I can see why.
Now, if we could just get Khal Drogo back on "Game of Thrones" so Khaleesi can be happy again, that would be great, thanks.
Citations: Khal Drogo Used To Be On Baywatch & The Pictures Are Scorching Hot (Refinery29)