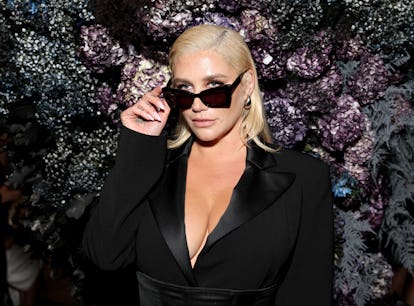 Kesha Removed Her P. Diddy Lyric From "Tik Tok"
She performed the song at her show with a subtle word change.
Jamie McCarthy/Getty Images Entertainment/Getty Images
Following Cassie's recent lawsuit against Sean "Diddy" Combs, many celebrities have stood in solidarity with the "Me & U" singer. That includes Kesha, who altered the intro of her most iconic song in what appeared to be a show of support.
On Nov. 18, Kesha performed the final show of her Only Love Tour in Los Angeles. Though the tour is framed around her latest album, Gag Order, the singer began her set with a few nostalgic tracks, including 2009's "TiK ToK." During her performance, Kesha changed the original opening lyric, "Wake up in the morning feeling like P. Diddy" to "Wake up in the morning feeling just like me."
Kesha's show came two days after Diddy's ex-girlfriend, Cassie, filed a lawsuit against the rapper that alleged over a decade's worth of abuse on Nov. 16. According to Rolling Stone, who reportedly obtained a copy of the suit, Cassie accused Diddy (whom she dated on-and-off from 2007 to 2018) of multiple acts of physical abuse, including rape, forcible kissing, and instructing her to perform sex acts with male sex workers while he watched.
On Nov. 17, one day after the lawsuit was filed, the former couple reached a settlement. "I have decided to resolve this matter amicably on terms that I have some level of control," Cassie said in a statement. "I want to thank my family, fans and lawyers for their unwavering support." Diddy released his own statement that same day, stating: "We have decided to resolve this matter amicably. I wish Cassie and her family all the best. Love."
Kesha didn't explain the reason for her lyric swap; however, given the timing, many saw it as the latest instance of the singer standing up for survivors of alleged abuse. This isn't an far-fetched observation, as she had her own highly publicized experience and legal battle concerning sexual assault.
In October 2014, Kesha filed a lawsuit against producer Dr. Luke, whom she signed a six-album contract with in 2005. In the suit, she alleged he "sexually, physically, verbally, and emotionally abused" her during the years they worked together. Luke filed a countersuit for defamation that same month, and the two reached a resolution to his lawsuit earlier this summer.
She channeled the years-long legal battle with the producer into her 2017 album Rainbow, which paved the way for her raw performance of the album's single "Praying" at the 2018 Grammys.