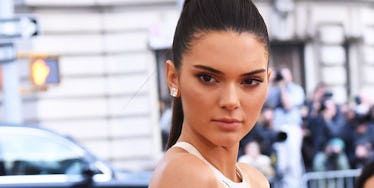 Kendall Jenner's Latest Modeling Pic Will Give You Serious Nightmares
REX/Shutterstock
Kendall Jenner has been doing some very ~interesting~ photo shoots for her modeling portfolio lately.
The 18-year-old reality star is often featured in LOVE Magazine, but she just starred in Fendi's new campaign as well.
For that shoot, Kendall rocked a pixie cut and looked almost unrecognizable.
It was definitely a bold move, but the photos came out awesome.
Now the star is back with LOVE Magazine, and things have taken a scary turn.
Kendall just added a photo of her latest shoot and it will honestly give you nightmares.
QUICK, GO GRAB A FLASHLIGHT AND A BLANKIE. I'm not quite sure you're prepared for what you're about to see.
IS KENDALL JENNER TRAPPED IN A HAUNTED HOUSE? SOMEBODY SAVE HER!!!!
WTF. Is it just me or does she look like the dead girl from Tim Burton's "Corpse Bride"? I know you see the resemblance.
Haha, I'm only kidding, Kenny! You look great. *sprinkles self with holy water*
LOVE Magazine shared another image of Kendall from the "Bright Young Goths" shoot, except she wasn't wearing the veil. Yeah, that DEF helps.
Kris Jenner isn't afraid, though. She shared her daughter's pics like a #proudmama. KRIS, YOU ARE SO BRAVE.
Awesome shoot, Kendall. Really!
Now BRB, gonna go hang a crucifix over my bed and pray to it.