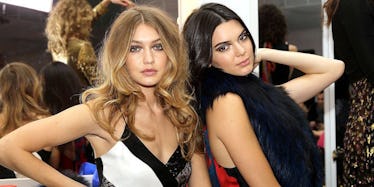 Kendall Jenner And Gigi Hadid Just Changed The Game For Festival Style
REX/Shutterstock
Kendall Jenner and Gigi Hadid define squad goals in more ways than one -- from being the tightest best friend duo to straight up slaying the fashion industry.
We reported on Kendall Jenner calling out internet trolls who gave her crap for not wearing a bra because, well, she simply DGAF about what all the haters think. Major props, Kendall… You keep doing YOU.
Our girls Kendall and Gigi make their own style rules, and that's what I admire so much about this chic duo.
Now that festival season is upon us, all eyes have been scouting out the celeb fashion game to see the hottest looks and trends out there.
It shouldn't come as a surprise when I say that Kengi totally changed the style game at Panorama music festival on NYC's Randalls Island last weekend.
While many festival-goers were clothed in boho-chic garb, floral prints, distressed denim, crop tops, white sneakers and headbands, Kengi took a different approach to festival-wear.
WARNING: Their look is so freaking badass, you may not be able to handle it…
Seriously though, how sleek do they look, clothed in all-black outfits?
CAN WE JUST TALK ABOUT THOSE BLACK LEATHER ANKLE BOOTIES?! I literally can't even rn.
Leave it to Gigi to rock that black baseball cap like a pro -- and Kendall looks super sophisticated in her leather shorts.
This duo made an epic fashion statement once again.
Thanks, Kengi. Your city-savvy blackout looks certainly give all of us serious style inspo for upcoming festivals.
Citations: How Kendall Jenner and Gigi Hadid Do Festival Beauty—With a New York Twist (Vogue)