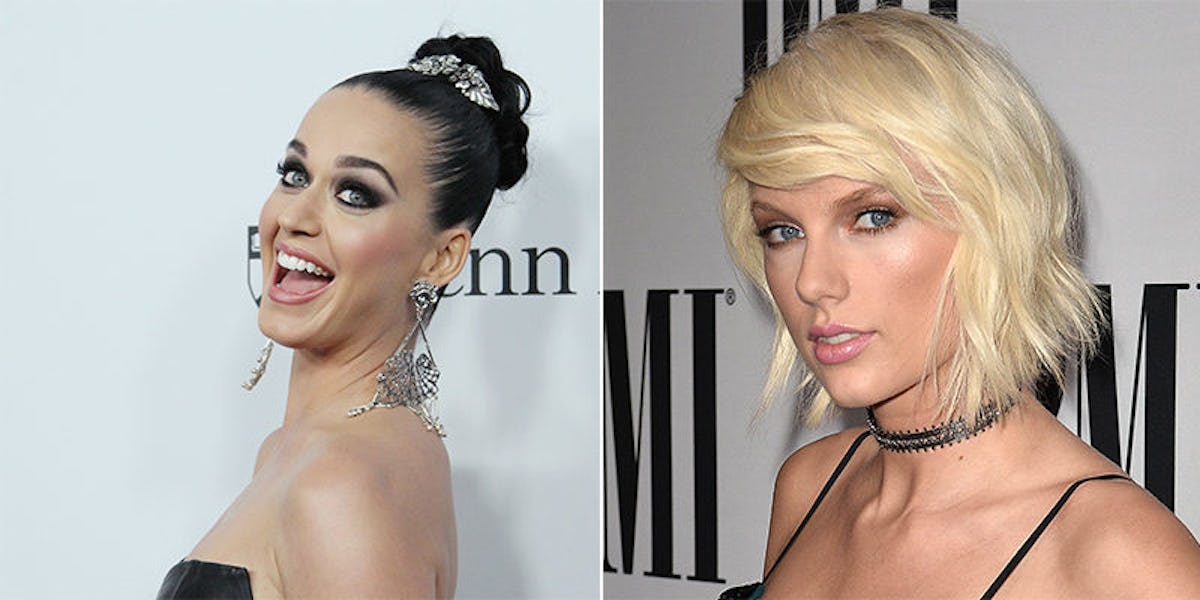 Someone Hacked Katy Perry's Twitter And Hilariously Shouted Out Taylor Swift
REX/Shutterstock
OK, yes, Taylor Swift and Katy Perry have some bad blood, and yes, I did have to make that reference.
It's required by entertainment writer law.  But if you think Katy Perry would stoop to weirdly calling out Tay with her verified Twitter account, think again. C'mon, the girl's got SOME class.
No, what actually happened was Katy Perry's Twitter reportedly got hacked. On Monday, the hacker took over the 31-year-old singer's account and with some classy language and terrible jokes sent out tweets to Katy's 89.1 million followers.
The tweets have since been deleted, of course, but before they were, the hacker got in a shoutout to T-Swizzle.
Also, by "classy language," I actually meant "offensive slurs," so read these tweets at your own risk.
One of the tweets read, "miss u baby @taylorswift13," which is actually kind of sweet. See, this hacker just wants to bridge divides and help us all live in harmony in the world.
So that Twitter shade is fake, but this Twitter shade from 2014 after Tay's Rolling Stone profile is 100 percent real.
How exactly the verified account of an A-list celebrity with that many followers gets hacked is beyond me.
It happened after Katy retweeted a message from Hillary Clinton honoring veterans, so maybe the lesson here is never support our troops.
No, just kidding. Thanks for your service. Happy Memorial Day, everyone.
Citations: Katy Perry's Twitter Account Got Hacked Resulting In VERY NSFW Tweets & A Taylor Swift Shout Out! (Perez Hilton)