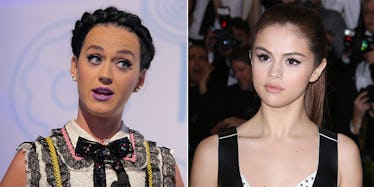 Wait...Did Katy Perry Just Throw Shade At Orlando Bloom And Selena Gomez?
REX
Orlando Bloom, who used to make movies and maybe still makes movies, probably (who knows?), is still able to get the industry's most successful, gorgeous women to talk to him but allegedly blows it all to sh*t pretty efficiently.
Less than a week ago, photos surfaced of the 39-year-old Brit kissing 23-year-old Selena Gomez in a Las Vegas nightclub.
Bloom's girlfriend, singer Katy Perry, vented on Twitter Wednesday night when she shared the link to Peggy Lee's "Is That All There Is?"
Is that all there is? https://t.co/54Q72MfXND — KATY PERRY (@katyperry) May 12, 2016
The song's lyrics say,
And then I fell in love with the most wonderful boy in the world. We would take long walks by the river, Or just sit for hours gazing into each other's eyes. We were so very much in love. Then one day he went away and I thought I'd die, But I didn't. And when I didn't I said to myself, 'Is that all there is to love?'
Katy!!! Nooooooooo!!! That's NOT all there is to love!!!
Don't give up on love, Katy Perry. You'll find it, and when you do, it will be with someone who wasn't widely considered to look worse in a blonde wig than Dave Coulier on that episode of "Full House" where Joey Gladstone dresses as a woman to attend a sorority reunion.
Stay strong.
Citations: 'Is that all there is?': Katy Perry cryptically tweets about a disappointing relationship... after boyfriend Orlando Bloom is pictured getting cosy with Selena Gomez (Daily Mail)