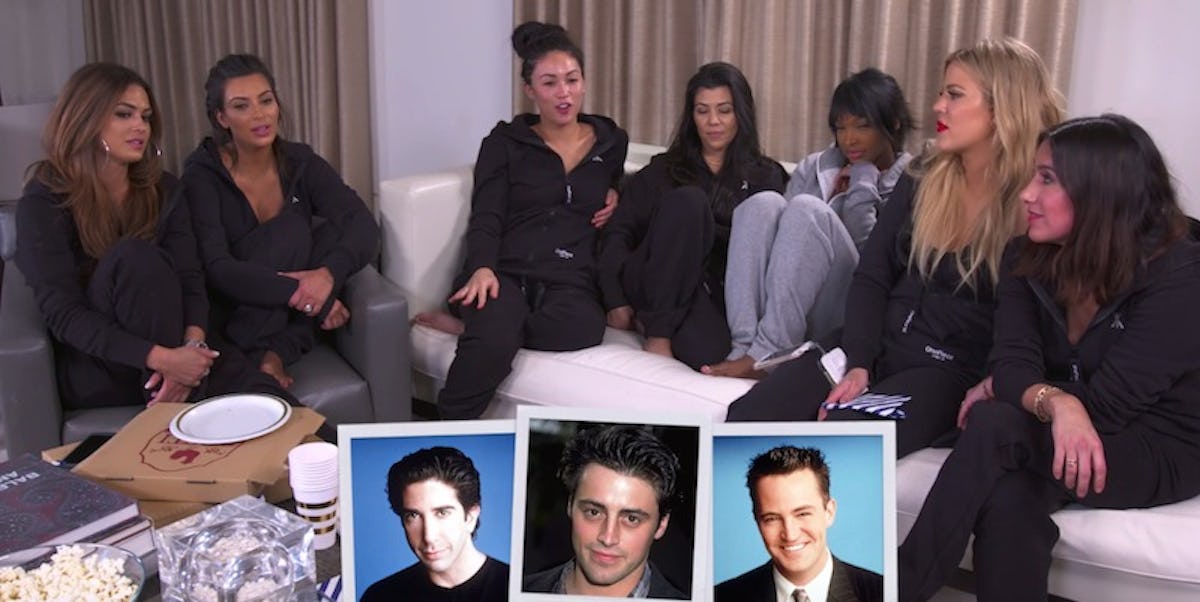 The Kardashians Played 'F*ck, Marry, Kill' With 'Friends' Characters
YouTube
Kim Kardashian West can't decide if she wants to f*ck, marry or kill David Schwimmer, especially now that he's an honorary member of the family.
In a segment titled "Girls Night In" on her app, the reality star cozied up with friends and sisters Khloé and Kourtney to play a rousing game of F*ck, Marry, Kill.
The options for this round? "Friends" characters Ross Geller, Joey Tribbiani and Chandler Bing.
The gang, wearing matching sweatsuits and pigging out on an untouched box of pizza, agreed to kill Ross, f*ck Joey and marry Chandler.
Khloé explained,
[Chandler's] funny, dorky… He's not the one that's gonna cheat on you. Joey's gonna cheat on you.
While the ladies agreed Ross was a general bummer who spent most of his time pining for Rachel Green, Kim admitted,
But, like, I like Ross now because he played our dad.
Catching Kim's reference to Schwimmer's portrayal of their father, Robert Kardashian, in "American Crime Story: The People v. OJ Simpson," Khloé quickly replied,
So… do you wanna f*ck him now or then?
Let's spare David Schwimmer the agony of having to watch the Kardashians decide what to do with his '90s sitcom alter ego.
Instead, let's agree the definitive ranking is as follows: f*ck Joey, marry Chandler, kill Ugly Naked Guy.