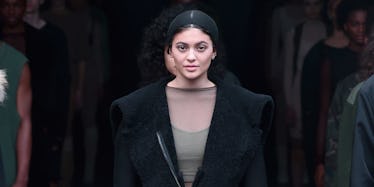 Kanye West Tweets Sneak Peek Of 'Yeezy Season 3' And It's Pretty Out There
Getty Images
Could it be?! In the wake of his insane Twitter feud with Wiz Khalifa, Kanye West has blasted out a new slew of tweets for a different reason: Yeezy Season 3.
If you were a fan of the Yeezy Season 2 all-nude, "Star Wars"-esque look, then Season 3 may come as a bit of a surprise.
With sneak peeks straight from the fitting room, the highly-anticipated fashion line seems to be taking on more color this time around.
Here are some of the best moments and edgiest looks.
Leave it to Kanye West and everyone's grandma to make socks and sandals cool.
Kanye takes inspiration from the average grandpa, as well.
Pronouncing things correctly is so hot.
Prob wouldn't accept cocktails from someone wearing this.
The outfit every stay-at-home mom should have in her closet.
Perfect for PTA meetings and playdates.
This look is part "Blade Runner," part ski chalet and all awesome.
While we still have no clue what 'Ye plans to call his new album, which is set for release in three days, at least we have some idea of what threads he's been cooking up.
As always, we'll be watching his Twitter feed like hungry AF hawks... because is there really any other way to keep up with Mr. West?  I think not.