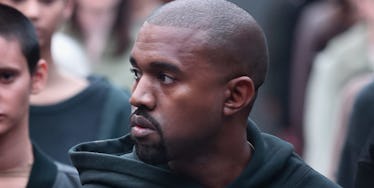 Kanye West's 'Yeezy Season 3' Fashion Show Will Have A Bizarre Twist
Getty Images
Kanye West is one of those polarizing celebrities: Either you love him, or you hate him.
But like him or not, he's one of the biggest names in the music industry, which makes this news so insanely hard to believe.
For 'Ye's upcoming Fashion Week show, showcasing the highly-anticipated (?) third season of his namesake Yeezy collection, West is hiring — hiring! — 1,200 extras to appear in the audience (and probably get down on their knees and worship-hail him... because, Kanye).
What's surprising isn't so much that Mr. West needs extras to fill Madison Square Garden — that place is freakin' huge — but that he's actually willing to pay people to go.
Correct me if I'm wrong, but I'm pretty sure, like, at least 70 percent of the population would go for free. Or even pay to go.
What's up, Kanye? Lose your confidence somewhere in that Twitter beef with Wiz?
Head to Onset Productions to learn more, register and apply to be in the audience.
Note that "rehearsals" (I don't see why this is necessary) start tomorrow, so you'll have to be able to get your ass to New York, like, now, if you want in on the fun.
Onward, Yeezy fans!