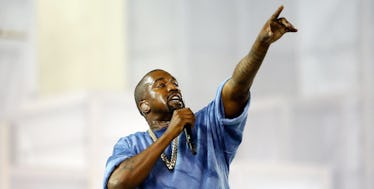 Kanye West Just Shocked Everyone By Saying Something Nice About Someone
Getty Images
On Saturday morning, Kanye West took a rare break from talking about Kanye West to tweet about the one other celebrity he also admires: Will Ferrell.
In a series of surprising and totally out-of-character posts, 'Ye sang his praises for the "Anchorman" actor, calling him a "breathing god" and a "blessing." The messages seemed to have been inspired by the rapper's recent viewing of "Zoolander 2."
Witnessing Kanye offer genuine praise to anyone other than himself is kind of like watching a dog walk on its hind legs: It just doesn't make sense.
In fact, if it weren't for the presence of his signature one-sided, stream-of-consciousness babble (and tweets professing love for himself), I'd probably be convinced that Yeezy's account was hacked.
In reality, though, he just really, really likes Will Ferrell.
See the tweets below.
It began with this announcement:
Quickly, it escalated into typical Kanye drama mode.
He called Will Ferrell's existence a "blessing."
...And praised his lengthy acting career.
He confessed his ~true love~ for Ferrell...
...And basically said his life wouldn't be complete without the star of "Anchorman."
Sorry, Kim.
You've been replaced.