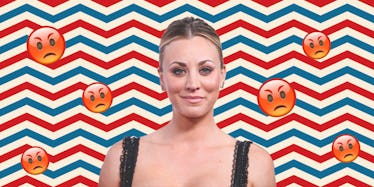 People Are Pissed At Kaley Cuoco Over This Fourth Of July Instagram
REX/Shutterstock
Kaley Cuoco is sorry, America.
While you were grilling up hot dogs, watching fireworks and, if you're Taylor Swift, singing Britney Spears karaoke, Kaley Cuoco was stirring up a buttload of controversy.
The "Big Bang Theory" star incited a bunch of internet hate after posting a picture of her dog sitting on an American flag on Instagram, a social media no-no that would have George Washington #Furious.
BAD KALEY CUOCO!
Kaley is sorry, though!
The 30-year-old actress recognized her patriotic wrongs and posted a massive apology letter to Instagram after deleting the original post.
In the upload, Kaley reassured everyone she loves America and would never do anything to offend the country, saying,
I am a proud American in every sense of the word. I understand the American flag stands for our freedom and represents American heroes, past and present. Yesterday I made a mistake by posting the picture that was taken of my sweet dogs posing on an American flag. I sincerely apologize to anyone that has been offended by my previous post. This is no way reflects my feelings toward what the American flag represents.
Kaley Cuoco: American. Patriot. Dog Lover.
Citations: Kaley Cuoco Pens Lengthy Apology After Image of Her Dog Sitting on an American Flag Sparks Controversy (People)