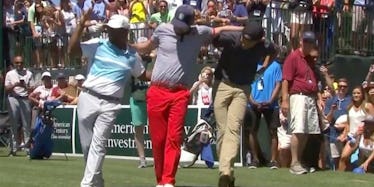 Justin Timberlake And Steph Curry Doing 'The Carlton' Will Give You The Feels
Golf Channel
I'm sure this weekend's American Century Championship golf tournament in Lake Tahoe provided spectators with plenty of memorable moments, but I'm certain there were none more entertaining than when Justin Timberlake, Steph Curry and Alfonso Ribeiro dropped their clubs and performed "The Carlton."
GROUP CARLTON ALERT! @jtimberlake @StephenCurry30 @alfonso_ribeiro #ACCGolf pic.twitter.com/bpIKSYHmty — NBCSN (@NBCSN) July 23, 2016
"The Carlton," as we all know, was made famous by Ribeiro during his days as Carlton Banks on the '90s hit "The Fresh Prince Of Bel-Air." Ribeiro may be a touch older now, but as you can see in the GIF above, the man hasn't lost a step.
As if it wasn't enough to get a glimpse -- and a GIF -- of Justin Timberlake, Steph Curry and Alfonso Ribeiro performing "The Carlton," the superstar trio also did the dance from the "Jones' Good Ass BBQ & Foot Massage" commercial.
I'll let you decide which dance was better, but you may want to keep in mind Steph Curry performs the Jones' BBQ dance on a near nightly basis.
As far as the actual golf results, if you care about that sort of thing, Ribeiro reportedly finished 13th, while Justin Timberlake and Steph Curry placed 21st and 27th, respectively.
Citations: Justin Timberlake Can't Get Enough of the Carlton: Watch His Dance Break With Alfonso Ribeiro and Stephen Curry (E! News)