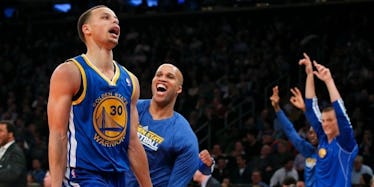 Steph Curry's Pre-Game Dance With Security Guards Is The Best Thing Ever
REUTERS
It's unclear if NBA MVP Steph Curry does this pre-game dance routine before every game, but before Game 7 of the Western Conference Finals, Curry and Oracle Arena security guards broke it down while turning all the way up.
Now, this video is awesome on its own, sure, but according to reports, there's actually some amazing context to go along with Steph Curry's pre-game routine.
If you listen closely to the above video, you can hear what appears to be Curry and a security guard saying something that sounds like, "Jones' Barbecue," followed by another line.
Well, it appears we now understand that somewhat inaudible line is "foot massage." How do we know this, you ask? Check out this hilarious spoof video for "Jones' Good Ass BBQ & Foot Massage" and see for yourself.
The "Toby Jones" in this video is reportedly comedian Robert L. Hines, and one can only assume he's as big a fan of Steph Curry and the Warriors as the point guard is of him.
Athletes are weird creatures of habit, so based on the fact Golden State has absolutely torched LeBron James and the Cavaliers in Games 1 and 2 of the NBA Finals, we can only assume there are going to be at least a few more nights of dancing, barbecue, foot massages and three pointers.
Citations: The Hilarious Origins Of Steph Curry's Pregame Dance Routine With Warriors Security Guards (UPROXX)