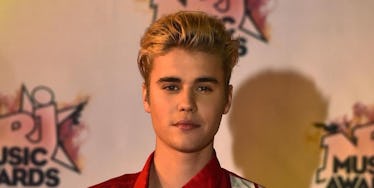 Justin Bieber Took A Selfie With That Super Hot Mall Santa Claus (Photo)
Getty Images
If you aren't jealous of Justin Bieber's wealth, fame, women, cars, houses, record deals and probably having Kanye's cell phone number, you'll definitely at least be jealous of the time he met sexy, hot Santa Claus.
Earlier this month, the Internet got a massive Yule log over a Toronto mall Santa named Paul Mason who is BLITZEN all of our hearts -- and other areas -- this holiday season.
If you aren't on board with this Santa rebranding, then honestly you don't understand the true meaning of Christmas.
"Ho! Ho! Ho!" spelled backward is "Oh! Oh! Oh!"
Damn straight mommy was kissing Santa Claus. GET IT, GURLLL!
Take a second to recover. Your entire body probably feels like a jar of Icy Hot.
Justin Bieber got some face time with St. Nick 2.0 over the weekend, and there is a good chance you're going to be supremely jealous of Canada's number one son.
It's true! Celebs shop at #Yorkdale! Can you #beliebe it?! @justinbieber + #YorkdaleFashionSanta #YorkdaleCheer pic.twitter.com/Hifmq0Dvew — Yorkdale Style (@YorkdaleStyle) December 20, 2015
Toronto's Hospital For Sick Children will receive $1 through the SickKids Foundation for every picture taken with the hot Claus uploaded with the hashtag #YorkdaleFashionSanta.
So, do the kids -- and honestly, yourself-- a favor and get in on this holly jolly sexual awakening.
Citations: Justin Bieber snaps a selfie with the 'Fashion Santa' (Toronto Star)