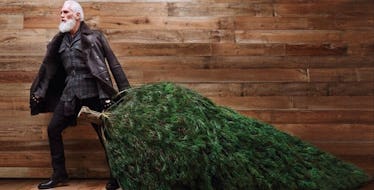 This Insanely Hot, Fashionable Santa Claus Is Making Everyone Freak Out (Photos)
If you thought mall Santas were just creepy old fat dudes with beards, think again.
Apparently, Toronto's Yorkdale Shopping Centre is giving us the gift of eye candy this Christmas with its smoking hot Fashion Santa, Paul Mason.
Mason is actually an experienced model with a badass white beard that makes him look like one incredibly sexy Santa Claus.
Instead of wearing the normal, tacky red suit, Mason struts his stuff around the mall in a crispy Ferragamo coat. Seeing this sizzling Santa is pretty much guaranteed to make you extra merry.
Unfortunately, you can't sit on this stud's lap and tell him the only thing you want for Christmas is his fine ass waiting under your tree.
But you can take a selfie with this bearded babe for a good cause, and that's almost just as good.
Take a look at the pictures below to see the most irresistible Claus in all of Canada.
Christmas is about to get even more merry this year thanks to one smoking hot Santa in Toronto.
Allow me to introduce you to Yorkdale's Fashion Santa.
Apparently, Fashion Santa's real name is Paul Mason.
He's a seasoned fashion model who makes for one incredibly good-looking St. Nick.
Between his perfect white whiskers...
His stylish red Ferragamo coat...
And his charming smile...
...it's not hard to see this silver fox is one incredibly blessed mall Santa.
When Yorkdale ruins your childhood and makes Santa Claus a silver fox #YorkdaleFashionSanta pic.twitter.com/4MmgOUdook — Megan (@Megan_Stangl) December 7, 2015
Lots of ladies have been lining up, hoping to tell this bearded babe how naughty they've been this year.
Sadly, you can't take a seat on his lap and tell him how badly you want him underneath your tree.
But it turns out, you can take a selfie with this eye-candy Mr. Claus...
...while supporting a good cause. The mall is donating $1 to Sick Kids Hospital in Toronto for every selfie tagged with #YorkdaleFashionSanta.
In addition to making shoppers extra thirsty...
we met the real warm cuddly santa, then we met hot hipster fashion santa #YorkdaleFashionSanta pic.twitter.com/OJrhpLxjvt — alexi halket (@IXELAmusic) December 2, 2015
This steamy Santa is also melting hearts on the Internet...
I'm glad to see other folks enjoying #YorkdaleFashionSanta as much as I am. cc @ManCaveTO @TheHogtownRake @gotstyle pic.twitter.com/NjukJnsHk0 — Paul Nazareth (@UinvitedU) December 5, 2015
...and people are basically losing their minds over this festive fella.
Seriously, Mrs. Claus better watch out because I'm pretty sure lots of ladies will be waiting up on Christmas Eve for this holiday hunk.
Citations: Stop What You're Doing And Look At This Sexy Santa (BuzzFeed)