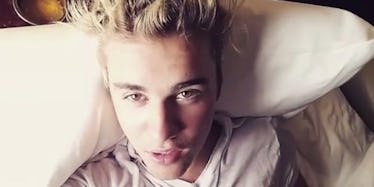 Justin Bieber Responds To People Hating On His Hair In A Hilarious Way
Instagram
YO HATERS, JUSTIN BIEBER WOULD LIKE TO HAVE A WORD WITH Y'ALL.
The 22-year-old singer went to Instagram today to comment on the backlash he received for his new hairstyle.
At the beginning of April, JB debuted a new look that sort of was a cross between dreadlocks and braids, but we still aren't too sure what's going on up there.
Since the ~reveal~, his fans have not been having it. But, guess what? JUSTIN DOESN'T CARE. He just posted a hilarious video on Instagram poking fun at the whole thing.
In it, he challenges his best "surfer bro" voice and, basically, lets his fans know he doesn't give a sh*t about what they think of his hair.
YOU TELL 'EM, JUSTIN.