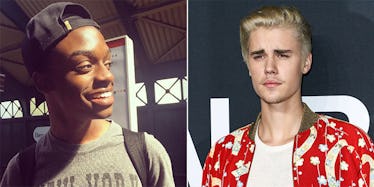 Justin Bieber Was Played By A Black Actor On 'Atlanta' And Twitter Loved It
Justin Bieber made a cameo on Tuesday's episode of "Atlanta," but there's no chance he remembers shooting a scene.
The latest episode of Donald Glover's stellar FX comedy called upon black actor Austin Crute to play Justin Bieber, and fans were all about it.
Viewers enjoyed a crazy clever representation of the Biebs as he participated in a charity basketball game and found himself at odds with Paper Boi.
Some considered the casting choice a heavy-handed reference to Justin's well-documented love affair with cultural appropriation.
This "black Justin Bieber" on Atlanta has me in actual tears! It's just too on point — Jillian (@ImJillianRose) September 28, 2016
Others loved the casting for its surreal brilliance.
Ultimately, fans agreed this was, overall, a "genius" move.
When he says it's Justin Bieber and you see this black kid #AtlantaFX pic.twitter.com/zbz1FiLrqC — Eat_Tweet_Pray (@B_Sharnez) September 28, 2016
"Atlanta" creator and star Donald Glover even recorded a fake Justin Bieber single for the episode.
Am I supposed to be digging the mock pop Justin Bieber song at he end of this episode of @AtlantaFX ? I hear you @donaldglover #AtlantaFX — anabel (@anablu3) September 28, 2016
Glover's show has already been renewed for a second season after having the most-watched basic cable primetime scripted comedy premiere in over three years among the 18-49 demographic and becoming the most watched new comedy series in the same demo since April 2014, IGN reports.
With just five episodes aired, the show is a clear favorite among fans and critics, and creative commentary that yields hashtags like #BlackBieber likely has much to do with the show's success.
Atlanta gotta be the most funniest and realistic show on Tv bruh — BODEGA PABLO(@PabloTheGodd) September 18, 2016
On episode 2 of ATLANTA and can confirm it's my new favorite show — Mary E. Winstead (@M_E_Winstead) September 22, 2016
More of this, please.
Citations: Twitter Couldn't Get Over "Black Justin Bieber" on Last Night's 'Atlanta' Episode (Complex)