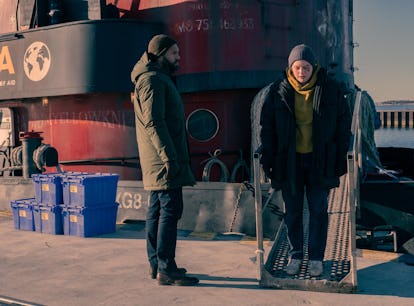 June Finally Made It To Canada. Now What?
These Handmaid's Tale theories are all over the place.
Sophie Giraud/Hulu
After three and a half seasons, the impossible has finally happened. When June was least looking for it, a chance at being rescued from Gilead turned up. Moreover, unlike the last three rescues that either failed or June turned down in the past, she actually made it out this time — not like she had much of a choice. Moira wasn't leaving Gilead without June and that was that. So what will happen to June in Canada now that she's made it out of Gilead? Let's run down the big theories.
Warning: Spoilers for The Handmaid's Tale Season 4, Episode 6 follow. It took the whole May 19 episode to get June out of Gilead and across the Great Lakes to Toronto. But the final moment had June stepping forward off the boat and onto Canadian soil for the first time. Freedom was here; freedom was hers. Luke was there, and he wasn't angry their daughter Hannah wasn't with her. June would be reunited with Nichole; she would never put on a red dress and bonnet again.
But the story is far from over. There are four more episodes in Season 4, and a fifth installment is already greenlit for 2022. So what happens next?
The Handmaid's Tale Season 4 continues with one episode a week every Wednesday on Hulu.