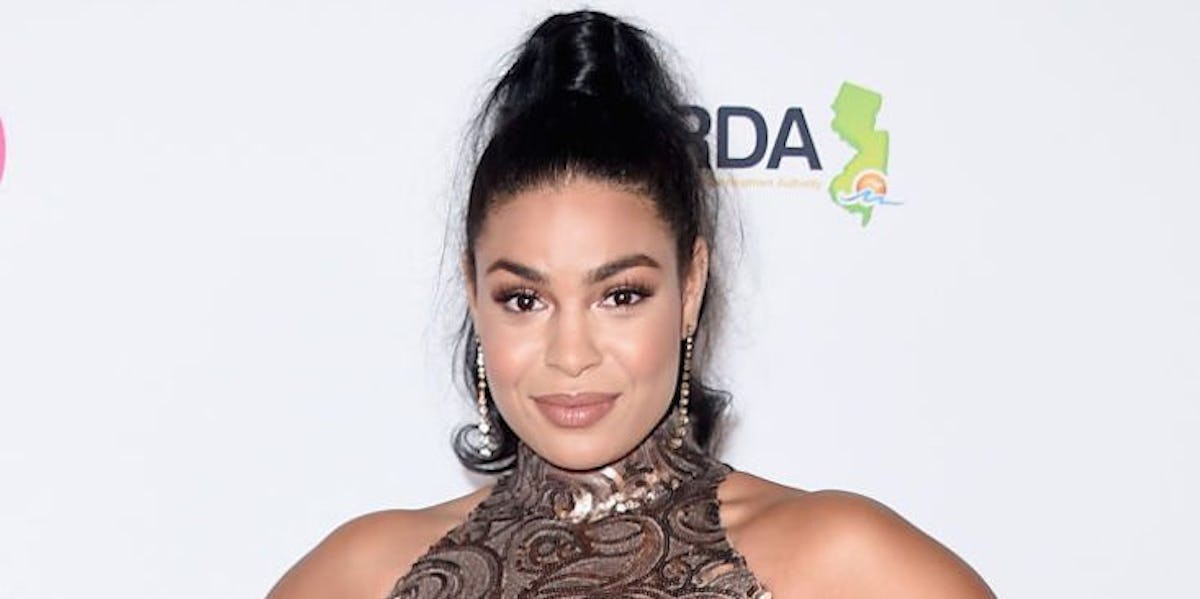 Jordin Sparks' Reaction During The Miss America Talents Was Everything
Michael Loccisano / Getty Images
The Miss America 2018 pageant aired Sunday, Sept. 10 on ABC and viewers all over the world tuned in to find out who would win the crown. We saw the bikini portion, saw some gorgeous dresses, and then we got to the talent portion. These performances can really go either way, and Jordin Sparks kind of spoke for all of us with her reaction. These tweets about Jordin Sparks' reaction to Miss America 2018's talent portion are literally hilarious.
After the preliminary selections from the judges, the contestants went on to the bikini portion. From there, they showed off their evening wear. Finally, the semifinalists got to the talent portion of the show, but only a certain number of those remaining competitors actually got to perform. We saw some contestants dance, some did a little bit of singing, we got a saxophone performance, and we even got some really... interesting... puppets during a ventriloquist act. Some of the talents were really, really great, but some were neither here nor there. (I'm sorry, ladies.)
Jordin Sparks was not there to hide her emotions. While other judges like Tara Lipinski and Maria Menounos made sure to flash those pearly whites no matter what was going on on the stage, Sparks had some hilarious reactions that got Twitter talking real quick.
We literally need GIFs of these reactions ASAP. They're perfect. Other tweets read, "I've never felt closer to Jordin Sparks" and "Mmm, you ain't hitting that note -- Jordin Sparks thought bubble." I'm so, so here for it.
But don't think Sparks isn't happy to be judging Miss America. Actually, she was super excited to be up for the job. She told ABC Radio,
Having done American Idol and been in front of that and [under] pressure like that and had people judging me, and giving me critiques -- I think I can bring a lot to the judge's table, actually.
She also said that she would try to be as fair as possible, but it's hard not to throw a little extra love at the woman who's competing for her home state. She said,
I'm an Arizona girl through and through. So whenever somebody represents AZ, I'm trying to root for them. I am rooting for all the girls though, so, we'll see how it goes!
Sparks also said that she has competed in a pageant before, but being a judge is definitely more her style. She said,
I did compete in one when I was younger, and I didn't like it ... [But] I just always thought how beautiful the women were -- how poised, how classy they all were. I do love that part of it.
The top 15 was quickly dwindled down to bring it to just 10 who performed for the talent portion. That top 15 included Miss District of Columbia, Miss Tennessee Caty Davis, Miss Virginia Cecili Weber, Miss Pennsylvania Katie Schreckengast, Miss Louisiana Laryssa Bonacquisti, Miss Texas Margana Wood, Miss New Mexico Taylor Rey, Miss Alabama Jessica Procter, Miss Missouri Jennifer Davis, Miss Alaska Angelina Klapperich, Miss Georgia Alyssa Beasley, Miss South Carolina Suzi Roberts, Miss New Jersey Kaitlyn Schoeffel, Miss North Dakota Cara Mund, and Miss Illinois Abby Foster.
Sparks wasn't the only thing lighting up social media during the Miss America 2018 pageant. Twitter also couldn't help but go nuts over Miss Louisiana's ventriloquist act.
I guess it's really true, you can't judge a book by its cover.
The contestants then went on to a two-part question section of the pageant -- the first time the question portion has ever been done like that in the history of the show. It looks like viewers got a chance to see a bunch of new things during the pageant this year.