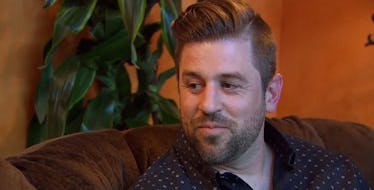 Jordan Rodgers' Brother May Have Revealed Who Won 'The Bachelorette'
ABC
DAMMIT, LUKE!
Jordan Rodgers' older brother, Luke, may have just revealed who won JoJo Fletcher's season of "The Bachelorette."
We were able to meet Luke (who shares the same name as one of the remaining contestants) on Monday night's episode during Jordan's hometown visit.
Jojo sat down with her potential pick's brother to talk about their relationship.
They ended up mostly just talking about Jordan's other bro, Aaron Rodgers, but that's beside the point.
THIS STORY IS ABOUT LUKE AND HOW HE MESSED UP.
Here's what went down. On Tuesday, Luke was giving a Facebook Live interview with Womanista when he accidentally spilled the beans on who's the last man standing.
IF YOU DON'T WANT TO KNOW, I SUGGEST YOU STOP READING.
Seriously, this is your last chance to look away. I'm about to share who Luke suggested won the show!
All right, I warned you. According to Luke's interview, it seems like Jordan gets the final rose.
During the interview, Luke discussed how well JoJo got along with Jordan's family. He explained,
[JoJo was different in how] she was able to just so easily come lockstep with our family and conversations and stuff, except for the fact that she is missing some crucial movies that we quote a lot, but we're going to catch her up.
HOLD UP, WHAT?
We need to talk about the end of that statement.
We're going to catch her up.
The way Luke phrased this implies the Bachelorette is still in touch with Jordan's family. Aka they hang out. Aka Jordan Rodgers is the man who won her heart!
Luke did his best to try to cover it up by adding,
We could catch her up with that, should she need to be caught up, depending on how this whole thing ends. But yeah, she can definitely roll with us, which is fun. It was fun.
LOL, OK LUKE. It's too late. You blew it.
I guess at this point it is pretty obvious Jordan wins. JoJo has been obsessed with him since day one, and he's clearly the frontrunner of the competition.
Either way, I'm excited to watch what goes down next week. Even if I know who wins, there's too much drama between the guys to stop watching. THIS SHOW IS MY LIFE.
Have a great week, Luke. I hope you sleep well knowing you dropped the biggest "Bachelorette" spoiler of all time. BYE!
Citations: The Bachelorette Jordan Rodgers' Brother (Us Magazine)