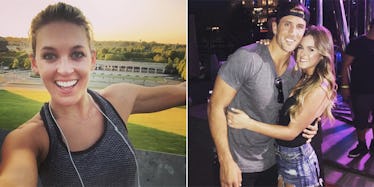 'Bachelorette' Winner Jordan Rodgers Got Called Out Again By His Ex
Instagram
Jordan Rodgers is getting shaded again.
The 27-year-old winner of "The Bachelorette" was the target of yet another Instagram post from his ex, Brittany Farrar, who took to social media once more to air out her former boyfriend's dirty laundry.
In her caption, Farrar makes a clear reference to her previous Instagram posts, which are now deleted -- perhaps because they were reported, if the words "somebody doesn't want this info out" are any indication.
Also, her hashtags might have been more meaningful than the actual main caption. She basically called him broke (#NowIKnowWhyYouNeverHelpedWithRent) and a football reject (#NotHisFaultCutFromPracticeSquads), all while promising there could be more to come (#IveGotLotsMoreProof).
Damn.
And, of course, this being 2016, screenshots off her previous posts were taken and the gist of the story, at least from her side, is pretty straightforward.
Farrar and Rodgers broke up after three-and-a-half years of dating, and she only began talking about him after he "lied about their relationship" on TV.
That's when she accused him of cheating and only going on "The Bachelorette" for fame. He denied, essentially calling her a liar. She came back and began producing alleged evidence, and here we are.
In a recently deleted post, she wrote,
With the power of a press tour, his lies reached our hometown and my family and friends are now constantly approached by mutual acquaintances.After weeks of this, I started wondering why I feel like I'm the one who should be silent when he was the one who jumped on a reality show hoping to catch fame as a last ditch attempt to make something of himself.
Sheesh.
On her Instagram account, Brittany describes herself as a Nashville-based fitness trainer and, according to Us Weekly, she's also a close friend of actress Olivia Munn, who's also the girlfriend of Jordan's brother, NFL quarterback Aaron Rodgers.
Safe to say, next time they all hang out together -- that is, if they ever hang out together -- there sure will be a lot to talk about.
Citations: Jordan Rodgers' Ex Brittany Farrar Slams Him Again After Her Post Gets Deleted: 'You Can't Erase the Truth' (Us Weekly)