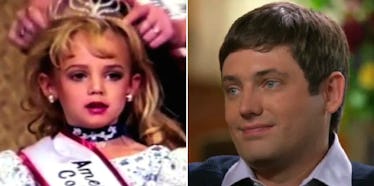 Everyone Thinks JonBenét Ramsey's Brother Killed Her After Docuseries Finale
CBS/Dr.Phil
Almost 20 years ago, 6-year-old JonBenét Ramsey was brutally murdered in her Colorado home.
On Sunday and Monday night, CBS aired a two-part special that shared some bone-chilling details about the pageant queen's unsolved case.
After the docuseries finale, viewers were left with some shocking revelations about what really happened in December of 1996.
Since the murder, JonBenét's parents, John and the late Patsy Ramsey, and brother, Burke Ramsey, denied being involved in her death. In 2008, John and Patsy were officially removed from the suspect list.
But after a team of forensics experts re-examined evidence and looked deeper into the case, they came to the conclusion Burke may be the one responsible.
The details of the theory reveal 9-year-old Burke killed his sister by striking her with a flashlight.
According to James Kolar, the former chief investigator for the District Attorney in Boulder, the death of JonBenét Ramsey may not have been murder, but actually an accident.
The theory states Patsy had left Burke with some tea and pineapple when his little sister tried to take some of the fruit. This prompted him to irrationally lash out and strike JonBenét.
The team of experts shared Burke had an aggressive history with his sister, one time hitting her with a golf club after "losing his temper."
Kolar elaborated,
My hypothesis was that I think the Ramseys came home at around 9:30, 10 o'clock. I think JonBenét was asleep. I think John did carry her upstairs, Patsy remained downstairs with Burke and served him the tea and the pineapple. I think that accounts for the physical evidence as well as the latent print. Then she got JonBenét up to make sure she used the toilet, so she didn't wet the bed that night. JonBenét was up, she may or may not have brushed her teeth, that stuff was out on the counter, then I think she was up and awake enough that she was maybe still hungry and she went downstairs. In the meantime, Patsy continued packing for the Michigan trip. I think if Burke was upset about circumstances or Christmas presents, he probably would have been upset about her trying to snag a piece of pineapple -- out of anger he may have struck her with that flashlight.
The experts believe Burke's parents used the ransom letter to cover up what really happened that night.
According to Twitter, it looks like the majority of viewers agree with the proposed theory.
So what do you think? Is Burke Ramsey responsible for the death of his sister? Did the team of experts reach an accurate conclusion?
Leave us a note in the comments!
Citations: JonBenet Ramsey Case (Daily Mail), JonBenet Ramsey Case (Us Weekly)