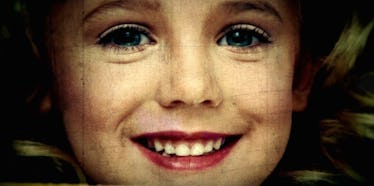 Voice In Background Of 911 Call Could Reveal Huge Lie In JonBenét Ramsey Case
CBS
The autumn of JonBenét Ramsey's story rolled grimly along Sunday evening when the first two hours of "The Case of JonBenét Ramsey" aired on CBS and unearthed some bone-chilling details surrounding the pageant queen's unsolved murder.
The first half of the two-part special dealt in part with the 911 call made in the early hours of December 26, 1996. The audio features JonBenét's mother, Patsy, failing to properly end the call. The series of voices that follow are now under heavy scrutiny.
FBI-trained Jim Clemente told viewers,
I think I hear a man say, 'We're not speaking to you.' I think that's John Ramsey's voice.
When a woman's voice, presumably Patsy, can be heard on the recording saying, "What did you do? Help me, Jesus," Clemente and fellow investigator Laura Richards suggest there may have been a child in the room.
In the event the Ramsey's other child, JonBenét's older brother Burke, does appear on the recording, it could provide a huge plot twist, despite Burke's 1999 exoneration due to DNA evidence.
Richards explained the boy's presence would be "hugely significant" considering, "Their account is that Burke was asleep at that time."
Dr. Werner Spitz — an expert with experience in both the John F. Kennedy and Martin Luther King Jr. assassinations — confirmed the Maglite flashlight found at the Ramsey family home was not only the murder weapon but could have been lethally wielded by either an adult or a fellow child.
He explained,
The skull of a 6-year-old? We call them eggshell skulls. … It could be an adult, it could be a child.
All eyes are back on you, Burke.
Citations: 'The Case of: JonBenét Ramsey' Recap: Shocking New Audio Revealed, Ransom Note Questioned (Us Magazine)