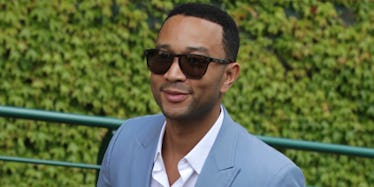 John Legend's Tweet Addresses The Kim K-Taylor Swift Feud And Melania Trump
Shutterstock
If you're not following John Legend on Twitter, you're only hurting yourself.
The 37-year-old musician recently took to the social media platform to address the Melania Trump speech controversy, and he did it in the best way.
According to ET, the Republican National Committee's chief strategist Sean Spicer had reportedly argued that Melania Trump's speech included "common phrases" used by a number of musicians including John Legend. The statement was made to justify striking similarities between Melania's RNC speech and Michelle Obama's speech from 2008.
Here's the exact tweet Legend replied to.
After coming across the statement, John Legend took it upon himself to address the matter in the most genius way. Not only did Legend address the Melania Trump situation, but he also poked fun at the ongoing feud between Kim Kardashian and Taylor Swift over Kanye West's controversial "Famous" lyrics referencing Swift.
Check out the hilarious tweet.
Just after Kim Kardashian exposed Taylor Swift on Sunday night's airing of "Keeping Up With The Kardashians" on E!, Swift took to Instagram to address the issue and used the same line.
Remember this?
Ah, John, genius work!
Did you hear that, Republican National Committee?! Please exclude Mr. Legend from this bizarre narrative... OR ELSE.
Citations: John Legend Quotes Taylor Swift in Response to Melania Trump's RNC Speech Controversy (ET)