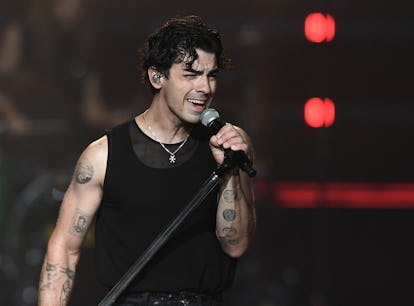 Joe Jonas Got A New Chest Tattoo For His Daughters
He debuted the fresh ink onstage.
Bryan Steffy/Getty Images Entertainment/Getty Images
Joe Jonas added a sweet tattoo to his collection. The "Sucker" singer, who is currently on tour in Canada with his brothers, debuted his fresh ink during the Edmonton, Alberta show on Nov. 14. Jonas' new chest tattoo was a sentimental nod to his daughters, Willa and Delphine, whom he shares with ex Sophie Turner.
On Nov. 15, fans started posting photos and videos of Jonas' tattoo on Twitter. It reads, "07.22.20 x 07.05.22," commemorating both of his daughters' birthdays. Another tattoo on his forearm — a stick-figure drawing — also looked new. Per Page Six, fans think it could be art from Jonas' older daughter, Willa. The Nov. 14 show was the first time fans noticed the tattoos, so Jonas didn't have them at his Vancouver show on Nov. 11.
Jonas' new ink comes after a contentious custody dispute with Turner following their divorce announcement on Sept. 6. "After four wonderful years of marriage we have mutually decided to amicably end our marriage," the couple wrote on Instagram at the time. "There are many speculative narratives as to why but, truly this is a united decision and we sincerely hope that everyone can respect our wishes for privacy for us and our children."
On Sept. 21, however, things seemed distinctly less amicable when Turner sued Jonas for "wrongful retention" of their daughters after he reportedly refused to hand over their passports so they could go to the United Kingdom.
Fortunately, by Oct. 10, the exes had come together on a temporary agreement regarding their children. "After a productive and successful mediation, we have agreed that the children will spend time equally in loving homes in both the US and the UK," Jonas and Turner said in a joint statement given to CNN. "We look forward to being great co-parents."
According to court docs obtained by TMZ, Jonas and Turner planned to alternate custody of their children between Nov. 2 and Jan. 7, 2024. Their daughters will spend Thanksgiving with Jonas and Christmas with Turner — so Jonas got the sweet tattoo just in time for the girls' holiday with their dad.