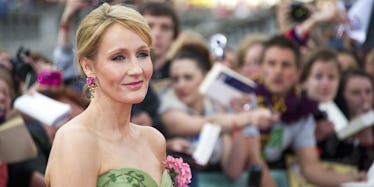 JK Rowling Shared A Behind-The-Scenes Look At The 'Harry Potter' Play
Shutterstock
Sorry, magic-obsessed Muggles, there will be no leaks from the cast and crew of "Harry Potter and the Cursed Child."
JK Rowling stopped by the show's rehearsal space to check in and make sure any and all surprises stayed surprising.
In a short video shared via the Harry Potter Play Twitter, Rowling sits with director John Tiffany and playwright Jack Thorne to chat progress and the impending previews.
Rowling gushes a bit about the "HP" fandom (hey girl, love you too) before urging Tiffany and Thorne to stay tight-lipped.
She says,
One of the things that I have valued most about the 'Potter' fandom is that, as a community, they have really looked after each other. People have each other's backs. It's a special thing, and it's for that reason, more than any other, I would like us, if we can, to manage to keep our secrets.
The author wants to make sure the magic stays fresh for fans who plan on seeing the play when it begins previews this summer.
She adds,
This will be such an incredible theatrical experience that I'd love us to be able to surprise people and move people in the natural way that a story should surprise and move people.
If someone would like to get me tickets for this show (plus plane fare to London's West End), I will give you my firstborn child in the event I ever have one. Actually, screw it, all of my children. Take all of them. Just get me there.