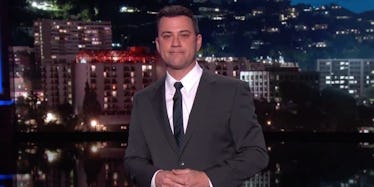 Jimmy Kimmel's Farewell Speech To David Letterman Will Break Your Heart (Video)
People are paying their respects to David Letterman as he finishes up his late-night TV stint.
Jimmy Fallon said some kind words about Dave Monday night. More recently, Jimmy Kimmel joined the wave and said his piece, too.
Kimmel was very emotional while thanking Letterman during his show Tuesday night. Kimmel choked up a little as he spoke, saying Letterman was a major inspiration for him, especially when he was growing up.
Kimmel admitted he wouldn't be where he is today without Dave.
It was a very heartfelt sendoff for Letterman, and it'll make you miss the king of late-night TV even more than you already will.