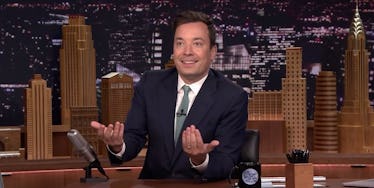 Jimmy Fallon Paid A Heartfelt Tribute To David Letterman On His Show (Video)
Getty Images
As I'm sure you know, David Letterman is retiring. This is his final week as the host of "Late Night."
In order to send off the late-night luminary, Jimmy Fallon provided a fitting tribute to Dave.
In his little speech, Fallon praised Letterman's sense of humor and his willingness to be goofy. Fallon also got a little emotional when he spoke about David's response to 9/11.
It'll be sad to see Letterman go, but it's great to know he left such a lasting impact on those around him.
Check out Fallon's take above.
Citations: Jimmy Fallon gives emotional tribute to David Letterman on Tonight Show (NY Daily News)