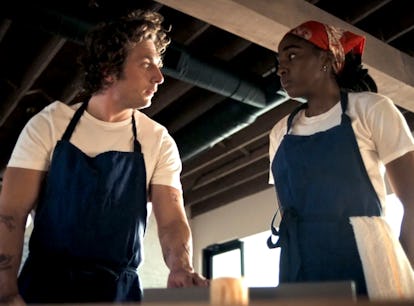 Jeremy Allen White Argued Those Carmy & Syd Scenes In The Bear Are Platonic
"It is a scene about partnership, but not a romantic partner."
FX
Jeremy Allen White is weighing in on the most hot-button topic in The Bear fandom, and his thoughts might upset some people. After Season 2 seemed to up the romantic connection between jaded chef Carmy and his determined business partner Sydney, tons of viewers are expecting the pair to take their relationship to the next level. However, White does not see that happening. He revealed that he didn't interpret any of Carmy and Syd's intimate scenes in Season 2 as anything more than strictly platonic, which may come as a surprise to everyone who's been making lovey-dovey #SydCarmy TikTok edits ever since the new season dropped.
The heat between Carmy and Syd was definitely turned up in Season 2 of The Bear. Although Carmy clumsily tried to date his old friend Claire, it was his undeniable connection with Sydney that really caught viewers' attention. Opening a restaurant together brought them closer than ever, and there may have even been some hints of jealousy from Sydney as Carmy became distracted by Claire. Not according to White, though. In a June 30 Variety interview, White shooed away any speculation that Sydney was jealous of Claire for any romantic reason.
"No! I read that as Syd being rightfully upset," White said. "They're doing this thing together and she does not have Carm's full attention and focus while they have a partnership. They're trying to create this thing that's very difficult to create."
The scene that really convinced shippers that #SydCarmy would someday become canon was the table scene in Episode 9. As the chefs are preparing to open their restaurant, they find a moment of solitude together while fixing a table. It's then that Carmy confesses he wouldn't want to be doing this with anyone else. While fans saw this as basically an admission of romantic love, White still maintains it's a platonic relationship.
"Of course there is love and and respect in this relationship. There's admiration and I think and I hope that even in platonic relationships, you are able to say things like, 'I need you,'" White said. "When they speak to each other under the table in Episode 9, it's such a beautiful scene, and it is a scene about partnership, but not a romantic partner."
And of course, there was also the panic attack scene. When Carmy started spiraling out due to anxiety as his restaurant plans seemed to fall apart, he was only able to calm himself by thinking of Sydney. Again, fans read this as proof of Carmy's love for Sydney, but White doesn't see it as romantic.
"I think that Syd and Carmy do things for one another. She is a source of peace and focus for him and I think, at times, he can be a source of inspiration and dependability. Sometimes he can't," White mused.