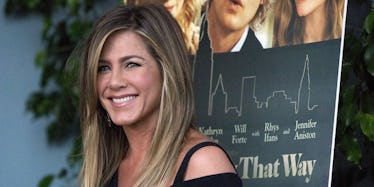 This Is What Jennifer Aniston Eats Every Day To Maintain Her Super Fit Body
REUTERS/Mario Anzuoni
Here's the deal: I eat food like nobody's business. Put anything in front of me, and if it's edible, I'll scarf it down in 2 seconds.
Food is fuel, OK? I need this sh*t to survive.
I often wonder how my ~diet~ (I use this term loosely) compares to what other people eat. Am I getting enough protein? How many vegetables should I eat a day? Is fat REALLY that bad for you?
And WTF do celebrities eat, anyway? How do they stay so fit and perfect?
You see, I eat food. But Jennifer Aniston eats food, too. So, why the heck don't I look like Jennifer Aniston? WHAT AM I DOING WRONG?
If you're like me and need to know WTF Jennifer Aniston eats in a day to maintain her flawless figure, then keep reading. By the time you get through this post, you'll basically be the next Rachel Green.
Aniston spoke with ELLE and shared her morning routine. It's a little fancier and healthier than my go-to breakfast meal (*cough* GIMME THOSE CARBS *cough*), but I'm willing to make some changes. Aniston said,
When I wake up, I have warm lemon water, and then I have a shake or avocado and eggs, which is one of my favorites.
She added,
I sprinkle a little coconut oil on that. Sometimes, I'll have a puffed millet cereal with a banana or I'll do oatmeal with an egg white whipped in at the end.
DAMN, sounds easy enough. Mom, can you pick up some puffed millet cereal the next time you go to Costco? I'm working on my Jennifer Aniston bod.
The actress also shared how her husband, Justin Theroux, influenced her eating habits. She explained,
Justin, my husband, taught me that little [egg white in the oatmeal] move to get extra protein! Right before [the oatmeal] is finished cooking, you just whip in an egg white and it kind of gives it this fluffy texture that's delicious.
Interesting, very interesting. I guess I'll start throwing away my breakfast burritos to make room in the fridge.
Now, let's talk about lunch. Jen said she eats "some form of vegetables or salad with protein."
And dinner? She said,
Probably the same.
OK, but what about snacks? A girl's gotta have her snacks, yo. She said,
Maybe an apple and almond butter.
But, what's her guilty pleasure? There has to be SOMETHING Jen occasionally dives into that has carbs in it. Right?!
Right. (Thank the Lord.) Jen shared she used to be a big Mexican foodie, but now, she prefers "a really good pasta." She also said Justin makes a pasta carbonara, and it's the BOMB. Jen added,
I've learned how to make it and it's not that bad for you! It's just an egg, parmesan cheese and a little pasta water. And we substitute turkey bacon for real bacon, so, you know.
Wow, that does sound amazing... and healthy. Thanks for the tips, Jennifer. I'm looking forward to making these meals to prepare for my Rachel Green bikini bod.
Wish me luck, everybody. I'll definitely need it.
Citations: Jennifer Aniston Eats In A Day (ELLE)