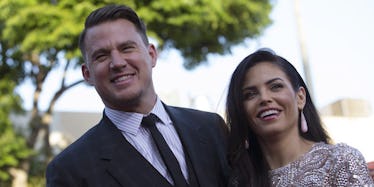 Jenna Dewan And Channing Tatum Are Teaming Up For This New Dance Series
REUTERS/Mario Anzuoni
I'm trying to think of 1,000 ways to say "HELL TO THE YES" because that is pretty much my only reaction to the news Jenna Dewan Tatum and Channing Tatum are going to be in a dance competition series together.
ELLE reports NBC officially ordered six episodes of a new competitive dance reality series starring Jenna Dewan Tatum. The show will reportedly be produced by Jenna and her husband, Channing, who is also promised to appear.
In case you've forgotten, Jenna and Channing already had one dance-off on "Lip Sync Battle," and it was pretty much the greatest thing I've seen in my entire life.
COOLEST MARRIED COUPLE EVER, OR COOLEST MARRIED COUPLE EVER?!
Jenna shared the announcement on her Instagram and Twitter last night.
Jenna will reportedly be playing the role of a judge and mentor to the participants on the show. Details on experience level of the competitors and whether or not I can audition are not yet clear.
However, I'm putting my money right now on another surprise Beyoncé appearance at some point during the new show.
Citations: Jenna Dewan and Channing Tatum Are Getting a Dance Competition Series Because YESSSSSS (ELLE)