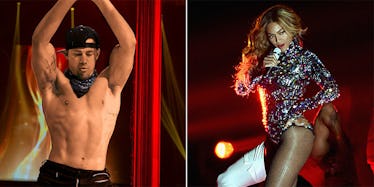 Channing Tatum And Beyoncé Blow Minds In 'Lip Sync Battle' Of The Century
Warner Bros. Pictures/Getty Images
Here's to setting the bar high. If you haven't seen it already, the most amazing "Lip Sync Battle" of all time happened Thursday night during this season's premiere.
Channing Tatum faced off with his wife, Jenna Dewan Tatum, only to pull out the ultimate trump card.
Yaaaaaas kween! It was Beyoncé. BEYONCÉ!!!
While we're all out here trying to avoid gluten in the new year or whatever, Beyoncé stays blowing. sh*t. up.
First, check out this clip:
Video: Beyoncé on #LipSyncBattlepic.twitter.com/kp957T74KV — Beyoncé Australia (@BeyonceAUS) January 8, 2016
The reactions on Twitter were almost as amazing.
When Magic Mike's wife out Magic Mikes Mike. @chrissyteigen@llcoolj#LipSyncBattlepic.twitter.com/teBZo2CboL — Mary Robinson (@CardChick) January 8, 2016
When your wife brings out Paula Abdul but you know you've got Beyoncé backstage #LipSyncBattlepic.twitter.com/OTVroSvz1v — Daniel Massoud (@4dpmass) January 8, 2016
Our real time reaction to Beyoncé walking on stage during #LipSyncBattle#HOWDIDHEPULLTHATOFFpic.twitter.com/lqLiqDKtW5 — Elite Daily (@EliteDaily) January 8, 2016
It was a little too much for some of us.
Me When Beyonce shows up on the Lip Sync Battle with Channing Tatum pic.twitter.com/JJlt8ncl1S — Lois Dwira (@_yourgirllois) January 8, 2016
Now we can all agree we're just heathens compared to Queen Bey, right? OK, cool. Glad that's finally settled.