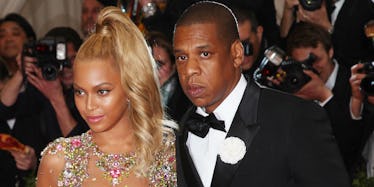 This Is Probably How Jay Z Reacted To Hearing Beyoncé's New Album
Shutterstock
In case you, like me, don't have TIDAL, you should know Beyoncé's new visual album is basically a solid hour of her dragging Jay Z.
Honestly, I highly recommend signing up for the TIDAL 30-day free trial to watch and listen to Lemonade. Bey just goes IN on Jay over and over.
Apparently, Jay Z's been less than faithful to his wife as of late, because I guess he's the dumbest person alive. You don't mess with Queen Bey.
If you need an example of how fire Beyoncé's album is, take these lyrics from her track "Don't Hurt Yourself,"
Who the f*ck do you think are you? You ain't married to no average bitch, boy.
Yikes. Here's the awkward part: At some point, Jay Z had to hear these songs.
Because the people of the Internet are hilarious geniuses, Twitter user meechonmars made a video of what probably went down when Jay finally gave his wife's new album a listen.
I CAN'T STOP LAUGHING AT THIS. THIS GUY HAS THE BEYONCÉ STARE DOWN SO PERFECTLY.
I mean, compare and contrast. This video is the realest of realism.
We can all only assume Jay Z died that night and Bey brought him back to life because she is a merciful goddess at heart.
I would say Godspeed to Jay, but honestly, who gives a f*ck about him? Long live the queen.