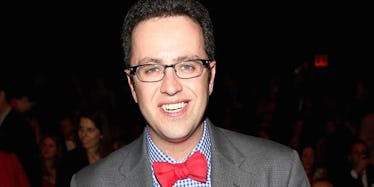 Ex-Subway Spokesman Jared Fogle Gains Weight Back While In Prison
Getty Images
Don't believe in karma? This might change your mind.
Jared Fogle, the former Subway spokesperson convicted of statutory rape and possession of child pornography, is reportedly packing on the pounds in prison.
Fogle was first made semi-famous in 2000, when Subway appointed him company spokesperson after he (allegedly) lost 200 pounds on an all-Subway diet.
An investigation into Fogle began in 2007, when a woman named Rochelle Herman informed authorities of a comment the then-29-year-old made about middle-school girls being "hot."
Herman recorded her conversations with Fogle until law enforcement had sufficient evidence to move forward with the investigation. A subsequent search of his belongings yielded child pornography, among other things, and Fogle was sentenced to nearly 16 years in prison.
Though he's only been incarcerated for three months, the former weight-loss champion has gained a full 30 pounds, according to InTouch Magazine. An unnamed source allegedly told the gossip rag Fogle "stress-eats" cake, Honey Buns and Frosted Flakes because he is "regularly taunted" by other prisoners.
The source also claims Fogle is referred to as "chomo," short for "child molester," and the other inmates routinely abuse and threaten him.
Because this report surfaced in InTouch (a notoriously, um, exaggerated weekly mag), it should all be taken with a grain of salt. That said, if all of this is happening to Fogle at the federal corrections prison in Colorado, I wouldn't be surprised — nor would I feel the least bit sorry for him.
You know what they say: Karma's a b*tch.
Citations: Ex-Subway Spokesman Jared Fogle Gains Back Weight While in Prison (Cosmopolitan)